Happily, the weather was kind to the crowds who lined the edge of Edinburgh's Union Canal by Ashley Terrace to watch the 2023 Ronnie Rusack Flotilla of Light on the evening of Saturday, 4th November.
Our stall opened at 4pm selling a variety of hot and cold non-alcoholic drinks, a selection of homemade cakes, and an autumn favourite, toffee apples, carefully prepared by committee member, Guy, using local fruit.
As the skies darkened, we soon found ourselves super-busy, selling out of mulled wine, toffee apples and home baking shortly before the flotilla passed by our stall around 6.30pm.
The boats were beacons of colourful light, brightening up the November evening as they made their way down to Lochrin Basin, with many of those onboard gamely providing live music and hurling sweets from their vessels onto the shore for onlookers to catch.
Our much-loved boathouse was lit up in white lights, providing a cheerful backdrop to the flotilla's procession.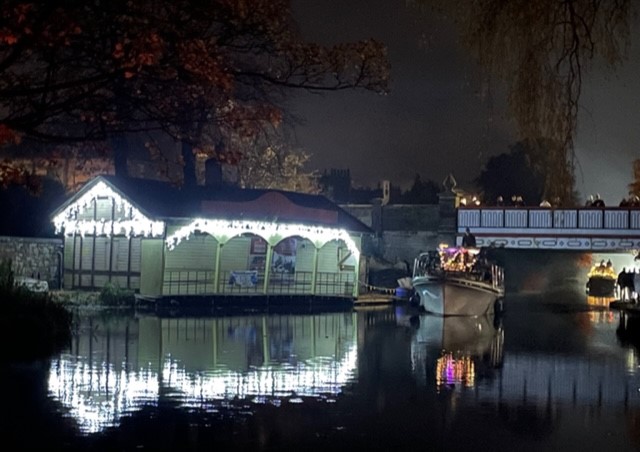 We thoroughly enjoyed being part of the event and are delighted to report we raised £547 which will be added to EUCS funds, contributing to our plans to develop the boathouse. Huge thanks to everyone who supported us. We look forward to seeing you again soon!